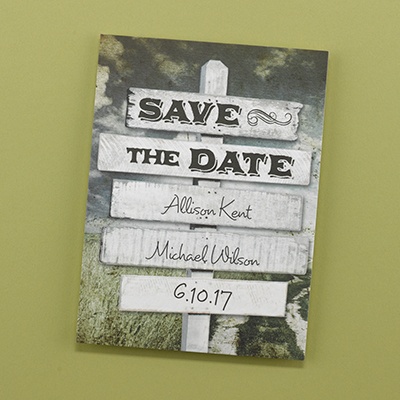 Nearly every bride we have the pleasure to work with has questions regarding their Save the Dates.  We thought it was time we break down the ins-and-outs of save the date etiquette and answer some of the most frequently asked questions we receive. 
Are they a must?       
No, they are not a must.  Save the dates were originally used specifically for destination weddings.
You want to be sure to send them to all guests that are traveling to allow them to prepare for the trip out.
We strongly advise using save the dates if you are having a wedding around a holiday so that arrangements can be made.
If you are having a wedding on a off peak day such as a Friday or Sunday we recommend sending them as well.
While they are not a necessity they really do help to ensure a better turnout for your day.
Who to include:
Send to every guest that you want to show up regardless if you know for sure or not if they will be attending.  You certainly don't want anyone to feel left out.
Since the save the date is more informal it is not necessary to address the announcement as John Doe and Guest.  To avoid any confusion it's usually best to address the announcement only to those who are invited that way there is no question as to whether their new girlfriend or boyfriend is invited or if the kids can tag along.  We've seen it both ways.
Include bridal party, and parent's of the bride and groom as well.  They will all cherish the save the date as a keepsake- well, the parent's will at least.
When to Mail
6-8 Months gives guests ample time to take time off of work, save up a little money, and make accommodations to enjoy your big day.  Unless it is a destination wedding in which they should be sent out at least 9 months in advance.
What to include:
            Couple's Names
            Wedding Address
            Location (Venue name and address)
            You can also include the link to your wedding website so guests can find further information.
What not to include:
We hope this helps out you soon to be brides!  If you have any questions, or need some advice on etiquette, follow this blog or feel free to drop us a line!
Related articles